Actually in progress, catalogue : woodcut prints, XIX & XXth century.
Michel Cabotse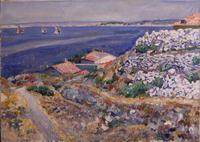 Expert member of the Chambre Nationale des Experts Spécialisés en objets d'Art et de Collection (C.N.E.S.)experts CNES
Sélection of XIXth & XXth century paintings by : Louis Valtat, Imre Emerich Révész, William Bouguereau, Eustaquio Marin Ramos, Jacques Mennessons, Auguste Charpentier, Kaszto Lanyi, Eugène Flandin , Johan Jacob Bennetter,William Blair Bruce , Eugène Cuvillier, Eugène Cantegril, William Laparra, Jean Lecroart, Serge Grinevich, Jean Albert Grand-Carteret, Michel Macréau, Jacques Duthoo, Ilio Burruni, Gebremariam Fikru, Jorge Soteras, Raphaël Kirchner, Charles Kvapil, Ludwik Cylkow, André Chardine, R Pollin, Léon Germain Pelouse, Evgeniy Pospolitaki, Chris Lebeau, Barbara Konstan, Antoine de Sypiorski, André Pétroff, André Lambert, Henri Lebasque...
Michel Cabotse : 75 rue Notre-Dame des Champs, 75006 Paris . France.
(On appointment only)
lien vers experts CNES (Chambre Nationale des Experts Spécialisés en objets d'art)

phone : +33 (0)1 43 25 34 83
Galerie Cabotse : see catalogue
Tel +33 (0)1 43 25 34 83